An Eastern Shore Original!
Our philosophy in retail business is simple, deliver the highest quality products, served by the highest quality people. To that end, we are as proud of our people as we are our coffee! Visit them at one of our five locations: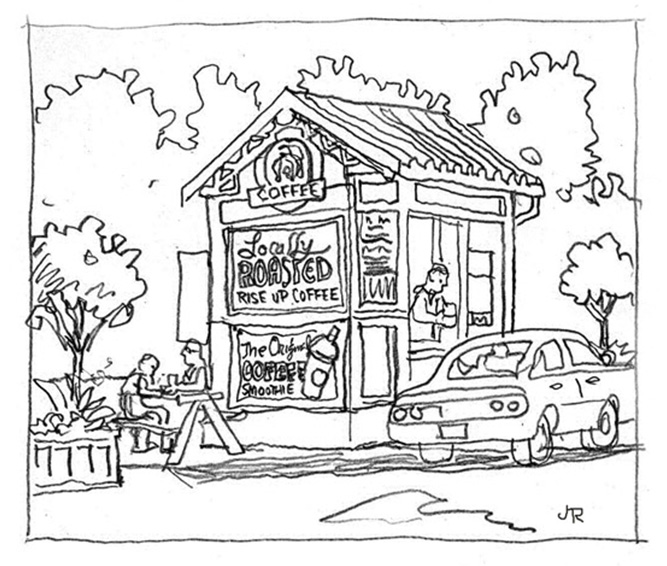 St. Michaels
Established in March 2005, serving out of a tricked-out coffee trailer, owner Tim Cureton began what would become Rise Up Coffee. This double-sided drive thru is open all year, and serves the entire Rise Up menu. Our signature organic coffees are always available both by beverage and bean.
1216 St. Michaels Rd.,
St. Michaels 21663
Store Hours – Mon-Sun 6am-7pm
PH: 410.745.5555
Riverside
Opened in 2007, this drive thru is ALWAYS jamming! Not to worry, as we are known for our AMAZING people who will greet you with a smile and get you rolling quick. From our roaster-fresh organic coffee to the Original Coffee Smoothie, we've got you covered. Coffees also available in both beverage and bean.
529 Riverside Dr.,
Salisbury, MD 21801
Store Hours – Mon-Sun 6am-7pm
PH: 410.202.2500
East College
A unique cafe that is somehow both modern and comfy. Providing plenty of seating and an open view of our daily work. This location also incorporates our food alter-ego, MAD EGGS, serving up fresh breakfast and lunch.
105a East College Ave.
Salisbury, MD 21804
Rise Up – 6am-7pm
Mad Eggs – 6am-3pm
PH: 443.358.5248
Easton
618 Dover is a celebration of all things coffee. Our roasting facility is the origin of every cup of coffee you'll ever have from Rise Up. This location also offers a full cafe and our food truck MAD EGGS so come hungry! Along with our signature organic coffees, a varying selection of single origin coffees are also offered. If your timing is right, you can watch us roasting your coffee (major roasting days are Monday thru Thursday).
618 Dover Rd.,
Easton, MD 21601
Rise Up – 6am-7pm
Mad Eggs – 6am-3pm
PH: 410.822.1353
West Ocean City
Our newest location offers both Rise Up and Mad Eggs (our food alter-ego!). Check out the specialty drink menu…slow pour bar, draft cold brew & nitro, and local organic kombucha by our friends Real Raw Organics. Tons of seating, both inside and out.
Rise Up – 6am-7pm
Mad Eggs – 6am-3pm
12611 Ocean Gtwy
Ocean City, MD 21842
PH: 443.664.6408